ALPI – Aluminum railing system
Railing system ALPI is an aluminum profile component railing system that is weatherproof and offers many possibilities for making different types of railings.
The following can be used as filler of the railing:
• Wood (board);
• Plywood;
• Glass;
• Square or round metal tubes, both horizontally and vertically;
• Bent sheet metal, perforated sheet metal, etc.
The railing can be ordered with or without a handrail. It is also possible to install an additional handrail on the side of the railing (aluminum, stainless steel or wood).
The railing can be used on flat surfaces as well as on stairs and slopes.
The railing can also be used on curved surfaces.
The railing may be mounted on the side of the aperture with special fastening brackets or on a flat surface with a base.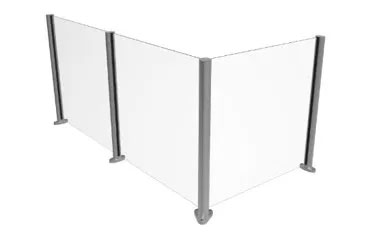 Technical specifications:
Post size: 80 x 40mm
Fastening: on the front edge or on top
Installation: flat or sloping surfaces
Material: aluminum
Finish: powder coated (by RAL or other code)
Width of groove: 21mm
Max height of the post: 1450mm
Max distance between posts: 1200mm
Handrail: aluminum profile
Additional handrail: wood, aluminum, painted or
stainless steel
Mounting a post on a flat surface or at the front edge is done with special "fastening bases."
They are fastened to the post with bolts and then mounted on the flat surface together with the post with screws or anchors.
No welding joints are needed.
Product range includes handrails of aluminum profile and wood (oak, birch, beech).
Handrail dimensions: 80 x 40mm.
Fastening with a hidden fastening system under the handrail.
On the side of the additional handrail is either an aluminum profile or a wood (oak, birch, beech)
Dimensions Round with a diameter 40mm.
There are several options for the filler of the ALPI railing.
Glass, plywood, perforated metal plates, grating filler, etc., may be used as a filler.
The filler may be over the edge of the post, even with the edge of the post, or below the edge of the post (in the versions with a handrail)
It is possible to use different types of perforation on the plates or cut/draw different shapes. In the case of grating, round or square rods horizontally, vertically or diagonally, etc.
Glass finishing according to the possibilities of the glass producers.
Perforated metal plates and grating fillers are finished with paint (powder paint in general) or varnish.
It is possible to order plywood filler oiled, lacquered, stained, etc.